The COVID-19 cases of the new Omicron type have been on the rise in Maharashtra, particularly in Mumbai, and things are starting to look gloomy for the state. On Monday, January 3, Maharashtra's Higher and Technical Education Minister, Uday Samant, tweeted about a high-Level meeting to Review the Omicron Situation.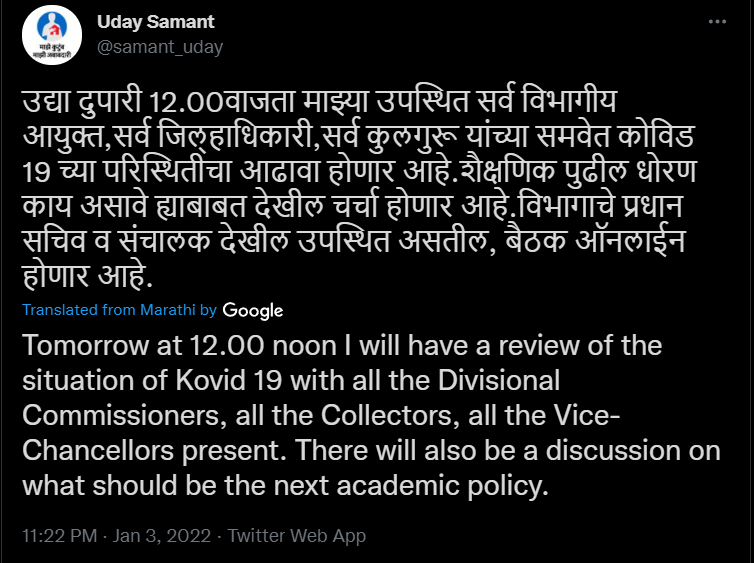 He stated "Tomorrow at 12 p.m., I'll hold a meeting with all the Divisional Commissioners, Collectors, and Vice-Chancellors to discuss the situation in COVID-19. There will also be a discussion about what the next academic policy should be."
Uday Samant will discuss the situation of the COVID pandemic in the university area as well as other topics during the meeting. It has been observed that this meeting will decide whether to keep the college open in the face of rising numbers of cases. The discussion will also go over what steps might be done to keep current examinations, courses, and colleges running in the face of rising coronavirus infection. Vice Chancellors of state universities, Education Department officials, Divisional Commissioners, and all District Collectors will attend the meeting called by Higher and Technical Education Minister Uday Samant. The meeting will be held online.
Students Demand
According to the responses to the tweets, several students demanded online classes and exams. They replied, "Sir, the examination should be conducted online. Due to the fact that students are not fully prepared."
And some people responded, "Kindly recognize a critical circumstance. It's the third wave in Maharashtra, and it's time to save the students' lives. Sir, everyone was vaccinated once, but infection returned, so take action".
Based on the threat posed by the new variant, the overall tendency on various social media such as Twitter is that students and parents are not considering reopening schools and colleges immediately. 

However, because of an exponential increase in COVID-19 cases, there is a considerable possibility of schools closing in Mumbai. Maharashtra had the most cases with 568, followed by Delhi with 382, Kerala with185, and Gujarat with 152. Due to the high rise of cases, it is still uncertain whether the exam would be conducted online or offline.