Amid the rapid increase in COVID-19 cases across the country, demands for canceling the board exams are rising. Students and parents across the country are demanding the cancellation of the board exams and posting their concerns on various social media platforms. Student associations and parents have been trending hashtags like #cancelboardpariksha and #cancelboardexam2022 on the microblogging website, Twitter. Along with the demand, they are also tagging the Union Education Minister and the Prime Minister with these tweets to get timely intervention.
The board exams for class 10th and 12th are going to be held soon across the country. However, the growing threat of the pandemic has led to students and parents protesting against conducting these exams. Earlier, CBSE has announced that if the situation is not controlled then it will drop its idea of holding the board exams for class 10th and 12th. This decision was backed by the policy earlier devised by it that says if exams can not be held then the final result shall be prepared on the basis of marks scored in Term 1.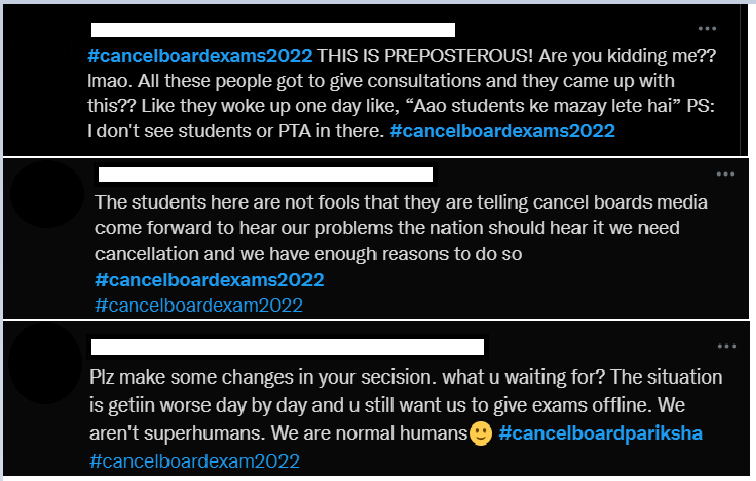 Even though CBSE has cleared the matter with this statement, several state boards like Assam, Bihar, Maharashtra, etc have released the timetable for the board exam scheduled to be held in February-March 2022. The candidates are now demanding that these exams should be postponed or it can prove destructive to the student's health and safety. Amid this demand of canceling board exams, the Rajasthan board has now come up with a clarification that it shall allow the covid positive students to write the examination in isolation.
Also Read – State-wise round-up of schools close & exams postponed
State-wise Board Exam Dates
As of now, the following states have announced the class 10th and class 12th board exam dates. Other states are likely to release the exam dates of their board exams soon.
| | | |
| --- | --- | --- |
| State Exam | Class 10th Dates | Class 12th Dates |
| Assam | March 15 to 31, 2022 | To be Announced |
| Bihar | February 17 to 24, 2022 | February 01 to 14, 2022 |
| Rajasthan | March 03, 2022 | March 03, 2022 |
| Maharashtra | March 15 to April 18, 2022 | March 04 to April 07, 2022 |
| Gujarat | March 28 to April 12, 2022 | March 28 to April 12, 2022 |
| Karnataka | March 28 to April 11, 2022 | March 28 to April 11, 2022 |
The above table has the exam dates for only some states, other state boards are expected to release the exam dates for the board exams in the upcoming days. A lot of states have been monitoring the situation of the pandemic now and the final decision shall be taken after analyzing the complete scenario.