In a surprising turn of events, University Grant Commission has today announced that students can now pursue two degrees at the same time. UGC chairman professor M Jagadeesh Kumar has announced that students can now pursue two programmes at the undergraduate and postgraduate levels. A detailed circular regarding the whole criteria shall be released by the commission next week.
Students free to pursue two courses at once
Talking about the same, the professor said, that the students can either go for two physical UG degrees or one UG and one PG degree. They can also go for a combination in which one programme can be attended physically and another can be learned through online mode. He further said that the detailed circular shall be released a week later. Also, this new rule is not compulsory for every university and they have full power to accept or deny it. In the words of the chairman, this is a unique step toward the implementation of NEP 2.0 that advocates providing flexibility to students. With this, the students shall be eligible to get a more multidisciplinary way of learning.
Students happy with the decision
Once the news broke, the students started supporting the decision. The candidates considered this decision remarkable and in the interest of the students. A lot of students also thanked the commission for this decision as now, they can pursue two courses they are interested in at a time.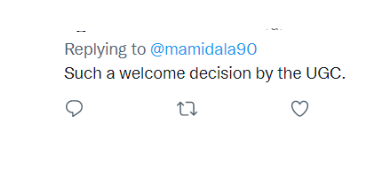 What do academicians think of this decision?
On one side, the students have been lauding this historical decision by the commission. However, a group of academicians has shown reservations against it. As per them, pursuing two courses at the same time can cause quality issues. In another word, this can also be thought that the student will be completely embroiled in studying for both the courses thus the quality of education shall suffer.
They further explained that earning extra credit for a second course can lead to a balancing act between the two courses. Also, while pursuing a single course, a candidate has to give at least 8 to 10 hours. Now, both courses will take at least 16 to 18 hours to study every day thus making a mockery of the whole education system.