Telangana CM, K Chandrashekhar Rao has taken the Legislative assembly session to announce that they are going to conduct a recruitment process for 91142 vacancies in the state. As per the CM, currently, thousands of posts are vacant in different groups ranging from 1, 2, 3, and 4 grades. The state government is in urgent need of human resources and therefore, they are going to conduct the recruitment process soon. After announcing this in the assembly, the CMO office took to Twitter to impart the same news:
Telangana Vacancy Distribution
Out of the total number of 91,142 posts, 11,103 posts are for contractual workers and the government is thinking of regularising these jobs. Apart from this, the CMO Officer has also tweeted the department wise and district wise vacancies against the whooping number of posts that can be found in the space below:
From the district-wise vacancies breakup mentioned in the space above, the maximum number of vacancies are announced for the Hyderabad region, 5268 vacancies. Whereas, the least number of vacancies are for the Wanaparthy regions having only 556 vacancies in different groups.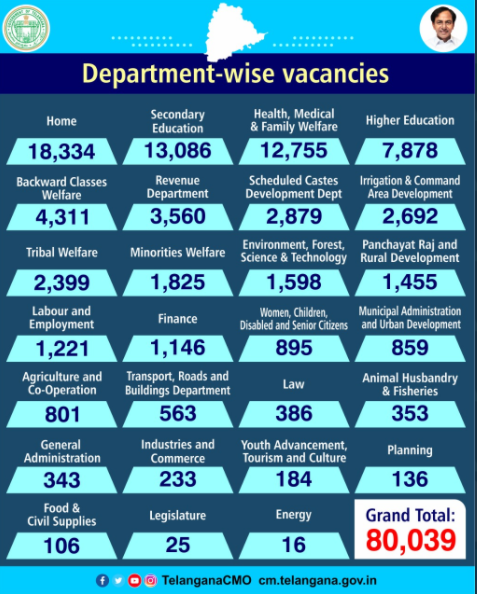 The CM has also tweeted the department wise vacancies for the different posts in multiple cadres. As per that, the Home Affairs minister has a whopping 18,334 vacancies. Whereas, the least number of vacancies have been announced for the Energy sector. Canddiates can check out the complete vacancy distribution here on the image provided above.
Apart from these announcements, the CM also said that for these vacancies 95% of reservation is for local candidates whereas 5% is for those belonging to other states. The upper age limit for all the categories has also been relaxed by the government except for the police departments. The state government is also going to spend around INR 7,300 crore expenditure per annum. This amount is going to be spent on providing the salary and expenses of the recruitment process.
As of now, it is expected that the government is going to announce the recruitment process for all these vacancies soon. After this news broke, the students across the state have welcomed the decision of the state and celebrated this.