Higher Education Minister K Ponmudi, Tamil Nadu today took his Twitter handle to announce the news of postponing the Tamil Nadu university exams. This decision was taken by the education minister post brief scrutiny of the ongoing covid crisis and consultation with Chief Minister M K Stalin. The university examination in Tamil Nadu was scheduled to be held this month only. However, citing a spike in the covid-19 cases in the state that could challenge the safety of the students, the government was forced to take this decision.
The education minister stated, "All university exams are being deferred indefinitely due to the exponential surge in COVID cases in the state. The revised schedule will be announced later", while talking to reporters of leading daily.
Student's Reaction on Postponement
This news has brought an array of mixed reactions from the students who were early protesting regarding the conducting of exams in the midst of the pandemic. While some students are not happy with this decision since this will take a toll on their overall academic records. Some students have been also saying that if the examinations would have been held as per schedule in November 2021 then, it would have saved the education system from collapsing again. Check out the student's reaction to the tweets listed below:
Student's Question Against the Tweet
Other than the counter tweets, this official announcement by the education minister is also garnering a lot of cross-questioning by the students. The minister has not specified the streams of the college or universities that come within the postponement radar. Hence, confused students are tweeting their questions for clear answers, check out the same below:
Universities on which this Tweet is Applicable
Moments after students started asking questions from the esteemed ministries regarding the universities to which this postponement is applicable, the minister tweeted his answer. He tweeted that this announcement shall not be applicable to medical universities. With these answers, it is clear that medical examinations in the state shall be held as per the schedule released by the colleges earlier.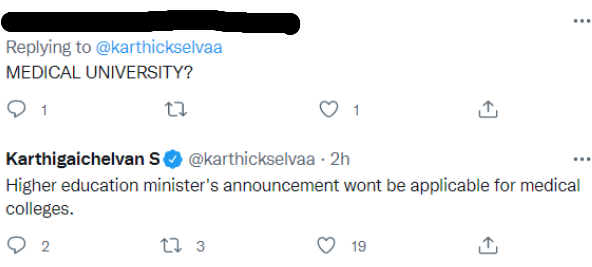 As per reports, Tamil Nadu on Sunday has reported 12,895 new Covid -19 cases thus taking the toll of active infections equal to 51,335. This surge in the cases has led to an alarming situation in the state.