Secondary Education Board of Assam (SEBA) has announced the Special High School Leaving Certificate (HSLC) 2021 examination. The HSLC Examination registration is planned to be organised by SEBA from August 05 to 12, 2021. The same was confirmed and informed via a tweet by MyGov Assam official account. These exams are specifically planned for students who are not happy with their HSLC and Assam High Madrasa exam results. They shall get an opportunity to improve their scores by appearing in these special exams. Interested students can apply for the examination on the official portal sebaonline.org. They can also apply through their respective school authority.
According to the official tweet, candidates who appear for the SEBA Special exam must appear for all six papers. They can improve their theory marks by giving these special exams. However, their internal assessment and practical marks shall remain the same. These marks will be added later on as per the existing data recorded by SEBA. After the conduction of exams, a new mark sheet will be issued to those students.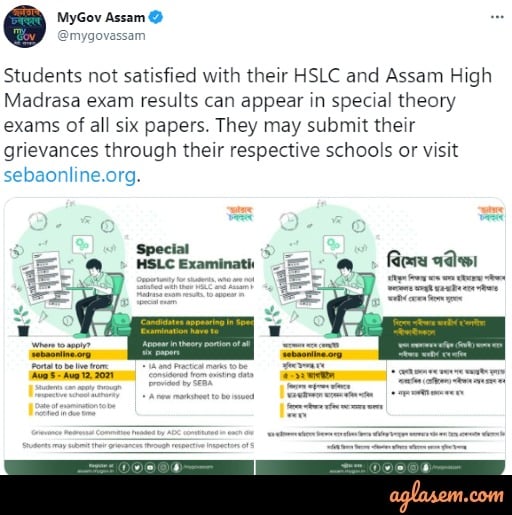 Authorities have also established a Grievance Redressal Committed headed by the Assam District Commissioner of that particular district. Moreover, students can also submit grievances to SEBA via their respective school inspectors. Along with this, students can apply for the special exams from August 05 to 12, 2021, on the official website sebaonline.org and also through their respective schools.
SEBA had recently announced the Class 10 results on the official websites sebaresults.in and resultsassam.nic.in along with 12 other official and third-party websites. Along with HSLC results, the board had also announced the Assam High Madrasa (AHM) results as well. The board had issued digital mark sheets to all students and physical mark sheets would be issued later on. The exact date and process to acquire physical mark sheets shall also be notified in the days to come.
As per authorities, digital mark sheets of special exam candidates will be cancelled. They shall be issued fresh mark sheets after the conduction of improvement exams. These fresh mark sheets will be based on their performance in the special exams. Similar to Assam, CBSE has also decided to conduct improvement exams for students in the August-September 2021 period. Various other central and state board are providing an opportunity to their students for improving their scores.
Based on the information provided by official records, a total of 4.26 lakh students had registered for the HSLC exams this year. It was stated by the authorities that a total of 88,521 students cleared the exam with first division, whereas, 1.6 lakh students got the second position and the third position was secured by 1.6 lakh candidates. The pass percentage in AHM 2021 is also 30 percent high this year, as compared to last year. Reports suggest that the pass percentage is 93.18 percent high this time, as compared to 63.67 of last year.