Students appearing for the upcoming board examination, students can check CBSE class 10 Mathematics (Standard) Sample paper 2021. The board has released the updated sample paper based on 30% syllabus reduction online at cbseacademic.nic.in. Students can plan their preparation strategy accordingly as per the pattern suggested in the sample paper. Along with it, the board has also released the marking scheme for the same. CBSE class 10 Mathematics (Standard) marking scheme 2021 is also important for understanding step-wise marks allotment scheme which will also be followed during the evaluation process. Knowing all this information will help the students to analyze & include the right way to include important points/keywords in your solutions.
CBSE Class 10 Mathematics (Standard) Sample Paper 2021
Students are suggested to go through these sample papers for CBSE class 10 Mathematics (Standard) and practice these to get good marks in the board examination 2021. Here, students can find the sample papers 2021 for CBSE 10th Maths (Standard) subject. If you practice these questions well, you can definitely score good marks in the exam.
CBSE Class 10 Sample Paper 2021 for Maths Basic View Download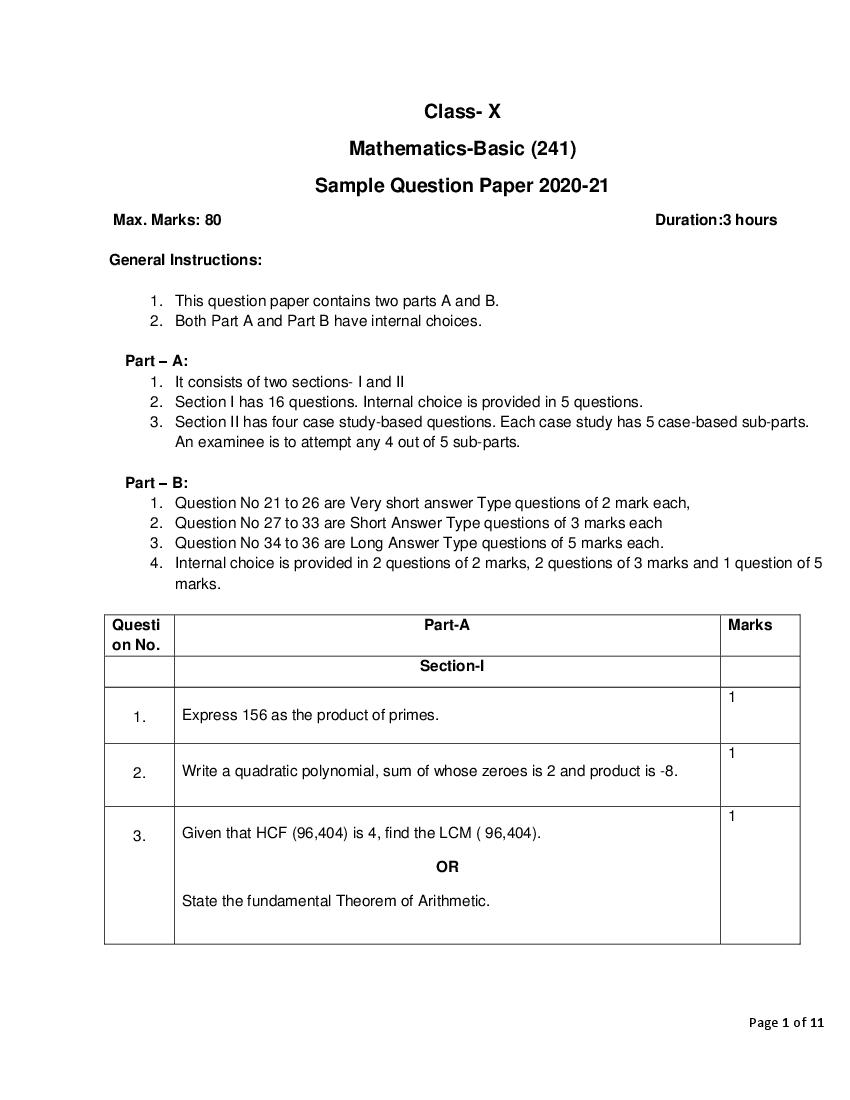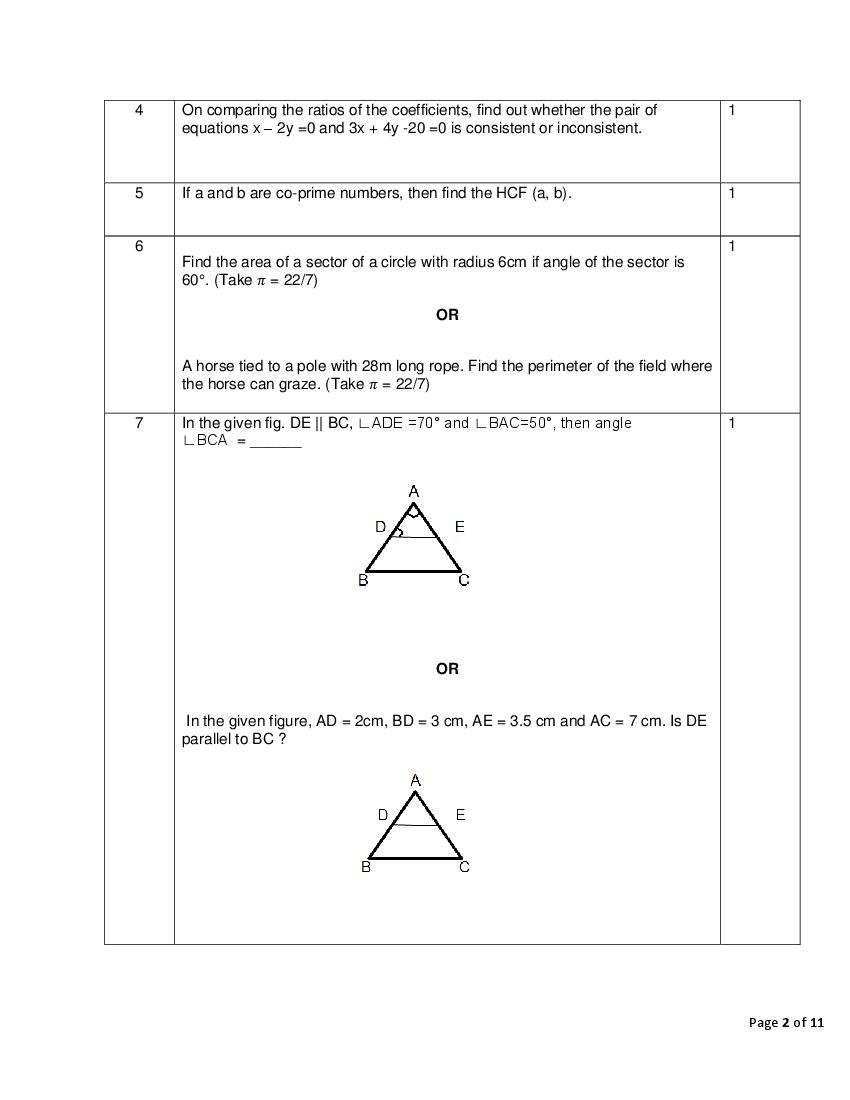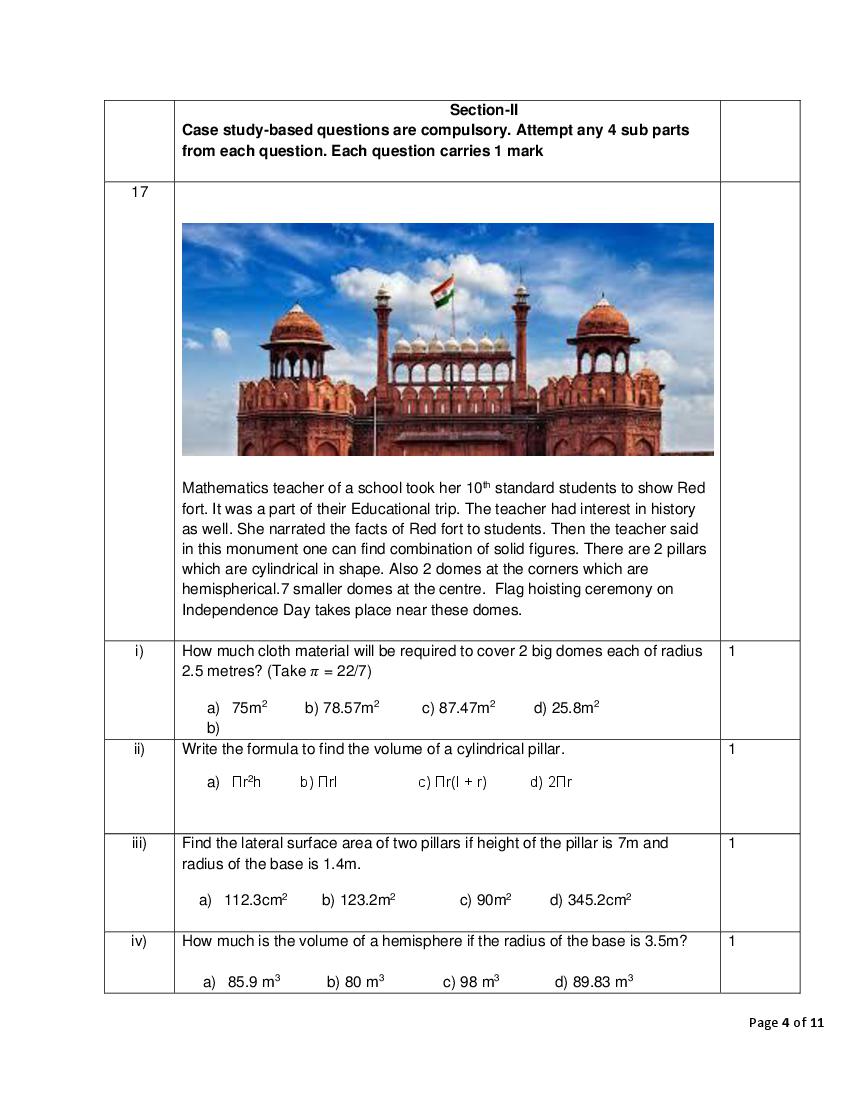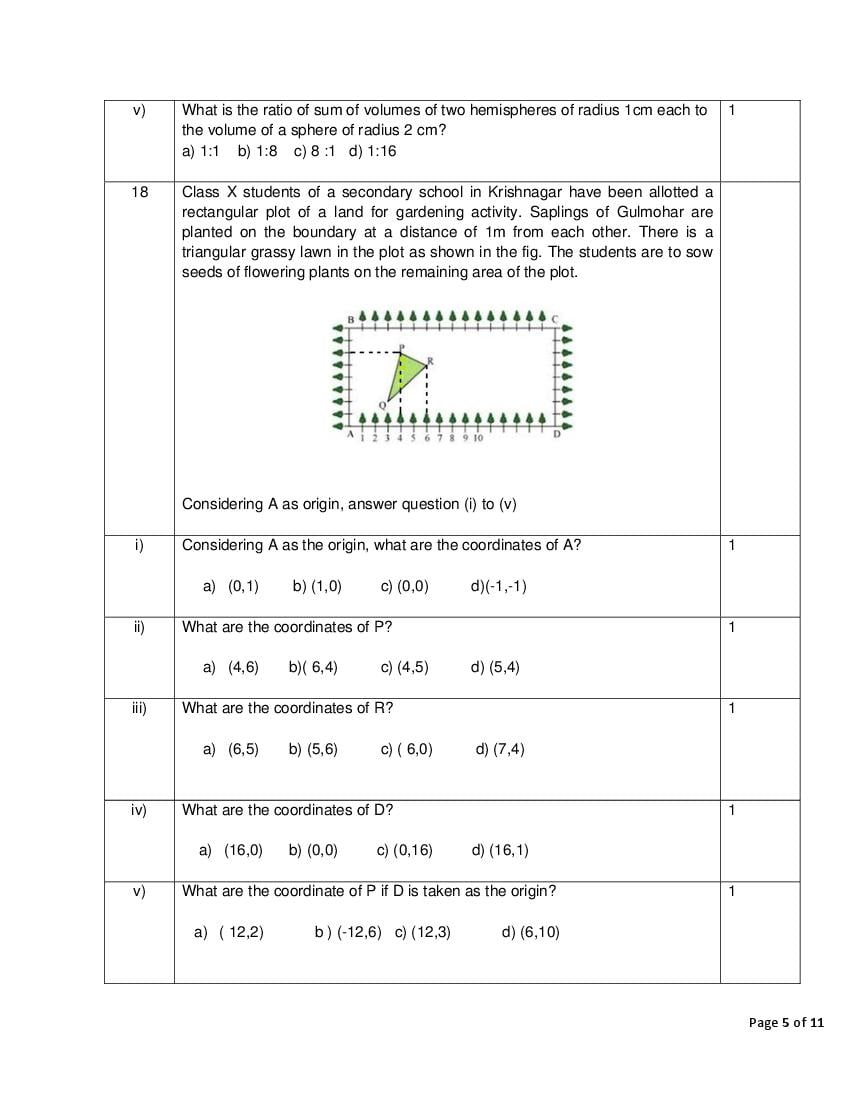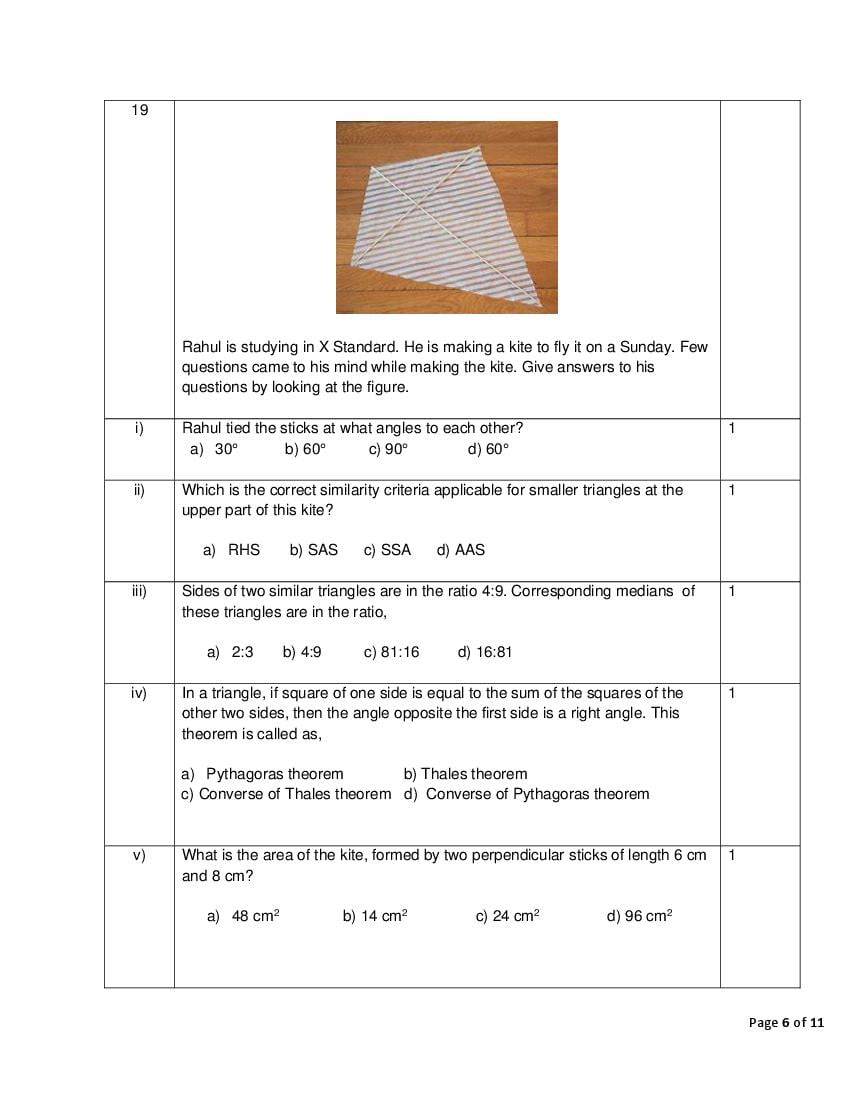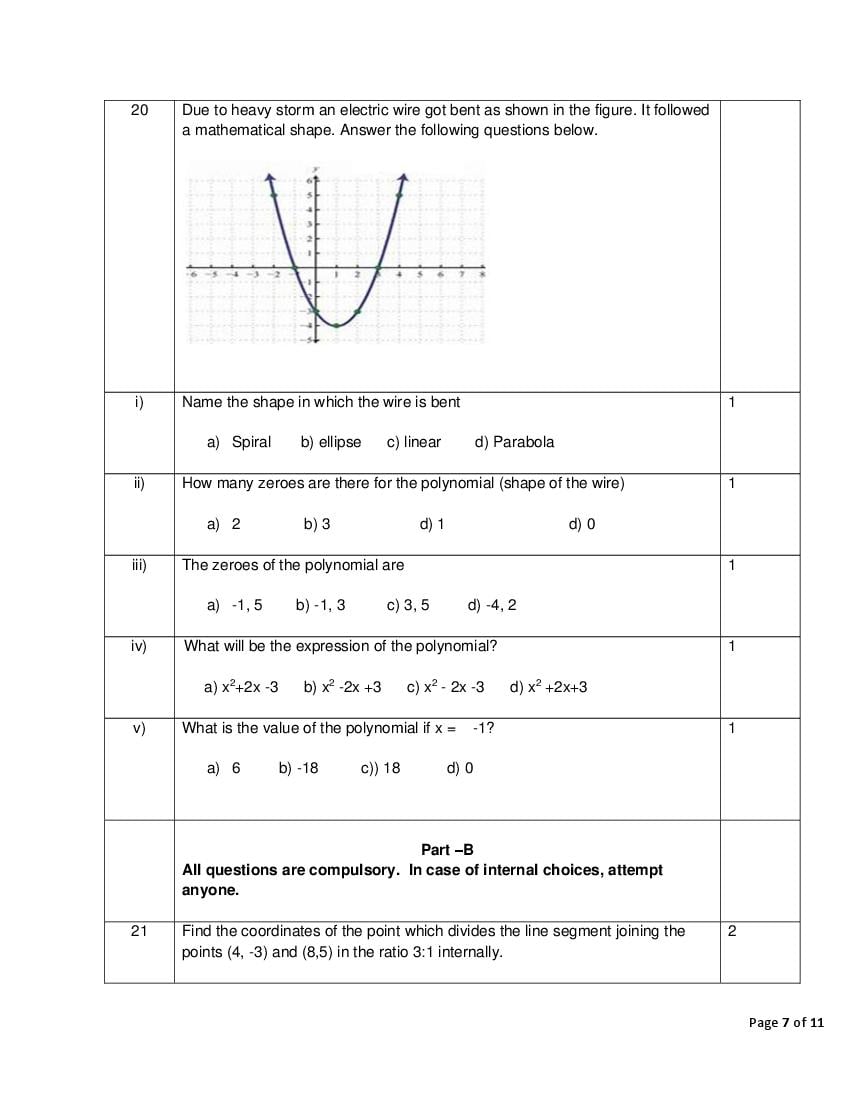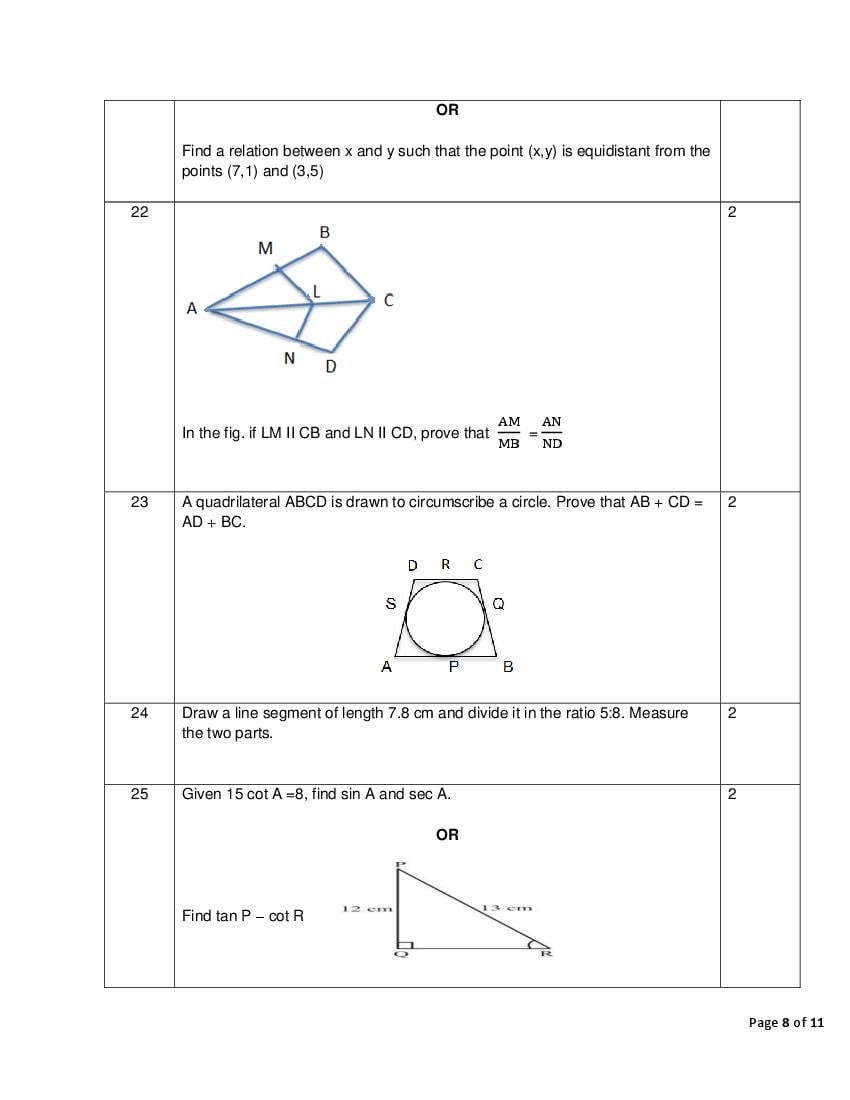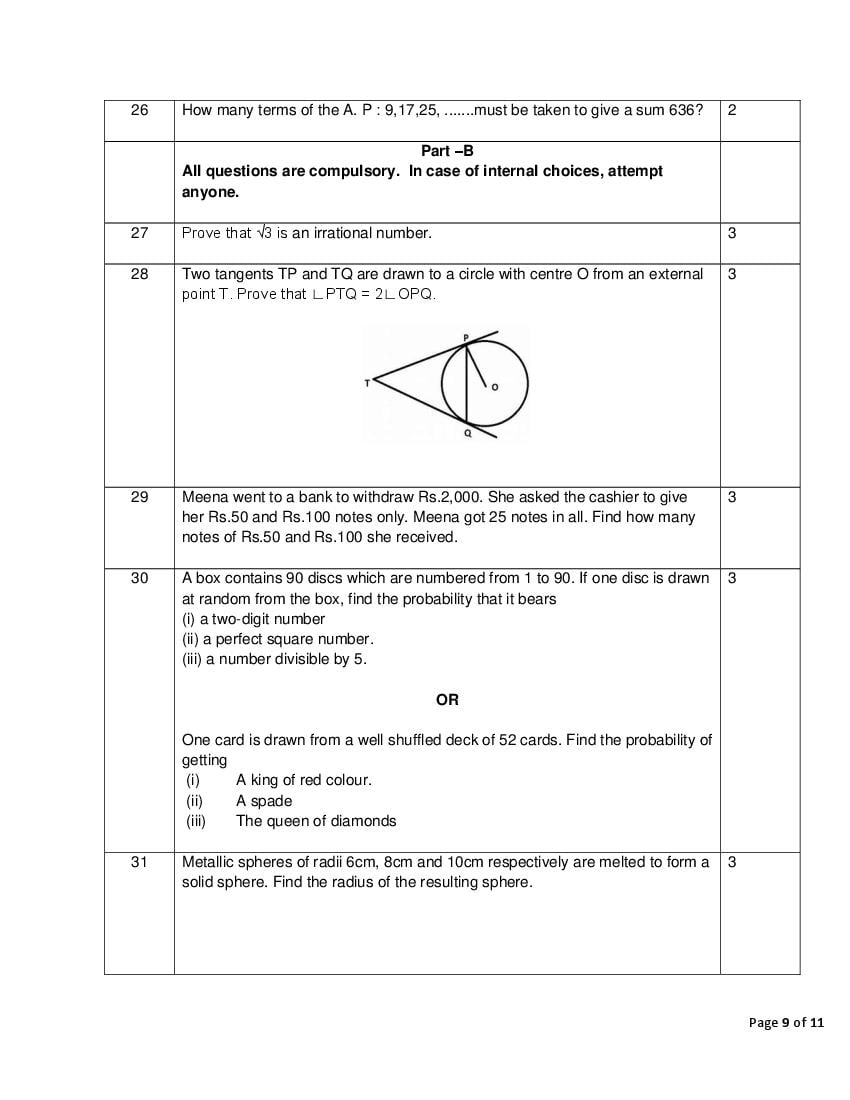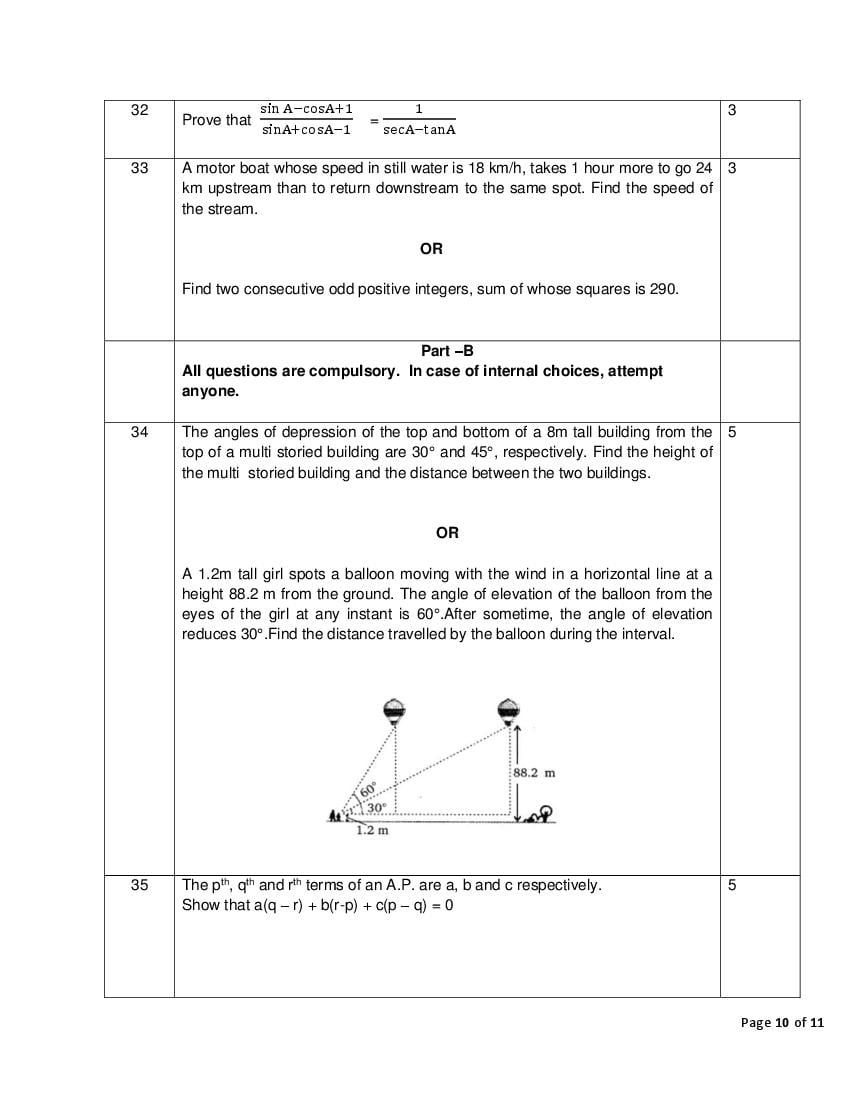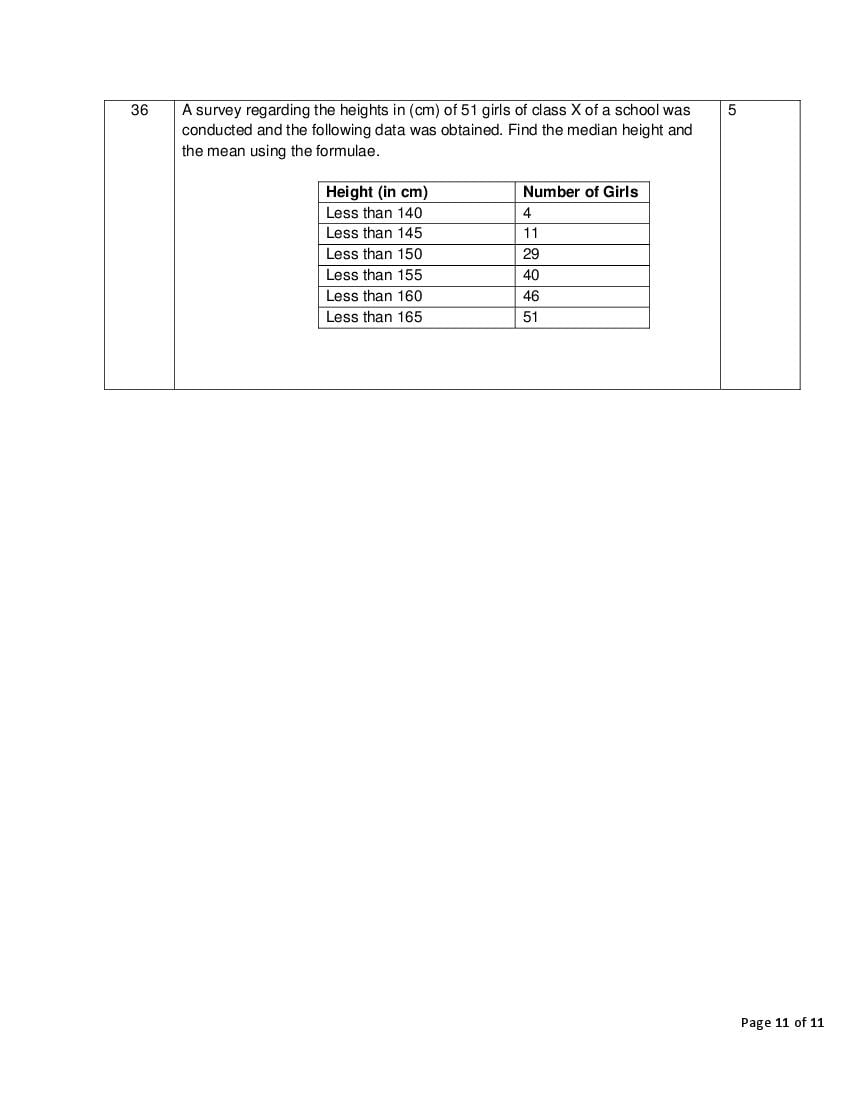 CBSE Class 10 Mathematics (Standard) Sample Paper 2021 Marking Scheme
The board released CBSE Class 10 Maths Standard Marking Scheme online at its official website – cbse.nic.in. With the help of the marking scheme as released, students know the correct format of writing the answers and can understand how the marks will be allotted in the board exams. CBSE Class 10 Standard Maths is for students who wish to pursue Mathematics in class 11 and 12. Whereas, on the other hand, those who do not want to choose the Science stream or take Mathematics as a core subject in classes 11 and 12, should practice for the CBSE class 10 Mathematics (Basic) sample paper.
Duration of the exam – 3 hours
Maximum marks – 80 marks
The question paper is divided into two parts A and B. There will be internal choices in both these parts.
Part A will have two sections – I and II. Section I will have 16 number of questions of 1 mark each and internal choice is provided in 5 questions. Section II has 4 questions on case study and each case study will have 5 case-based sub parts. Students will need to attempt any 4 out of 5 sub parts.
Part B will have three type of questions. Very short answer type questions are from question number 21 to 26 of 2 marks. Question number 27 to 33 are short answer type of 3 marks each, and question number 34 to 36 are long answer type questions of 5 marks each.
CBSE Class 10 Mathematics (Standard) Syllabus 2021
Central Board of Secondary Education (CBSE) has revised the syllabus for class 10 Maths (Standard) subject for the academic year 2020-2021. The decision to reduce the board exam syllabus was taken to compensate for the loss of academic studies due to COVID-19 lockdown. Students can check the updated CBSE class 10th Mathematics (Standard) syllabus 2020-2021 and prepare for their board exam.
CBSE Class 10 Mathematics (Standard) Previous Year Question Papers with Answers
One can secure good marks in Mathematics subject only if they practice well for it. The more students practice, the more command they will have over this subject. Here, students can download the class 10 Mathematics (Standard) question papers with answers for the year 2020, 2019, and 2018. Download the pdfs for the same from the link provided below.
Click Here to download CBSE Class 10 Mathematics (Standard) 2020 Question Papers with Answers
Click Here to download CBSE Class 10 Mathematics (Standard) 2019 Question Papers with Answers
Click Here to download CBSE Class 10 Mathematics (Standard) 2018 Question Papers with Answers