In a significant milestone, Chandigarh University has recently earned the prestigious ABET accreditation for its Computer Science and Engineering programs, marking a historic achievement as the First Private University in India to attain this distinction. This international recognition underscores the university's unwavering dedication to delivering top-tier education, preparing students for prosperous careers in these dynamic fields. This article delves into the essence of ABET, its paramount importance for students, and how Chandigarh University's Engineering and Computer Science programs' accreditation benefits both present and prospective students.
What is ABET?
ABET, the globally renowned Accreditation Board for Engineering and Technology, is an esteemed organization accrediting college and university programs in applied and natural science, computing, engineering, and engineering technology. ABET accreditation guarantees that educational programs adhere to rigorous industry standards, ensuring graduates are exceptionally well-prepared for their professional journeys.
The Significance of ABET for Students
ABET accreditation holds immense significance for students for several compelling reasons. Foremost, it certifies that the program a student enrolls in adheres to stringent academic standards, ensuring a superior educational experience. Additionally, ABET accreditation bestows global recognition upon graduates, enhancing their marketability both nationally and internationally. Crucially, it ensures that graduates' degrees are acknowledged by employers and professional licensing bodies, facilitating their professional growth and mobility.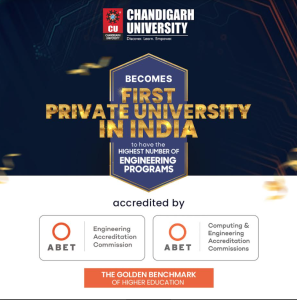 CU's Engineering and Computer Science Programs: ABET Accreditation
With the recent ABET accreditation, Chandigarh University's Engineering and Computer Science programs have reached unprecedented levels of excellence. This accreditation underscores the university's commitment to upholding exceptional academic standards, investing in cutting-edge infrastructure, and fostering a vibrant learning environment. The thorough evaluation by ABET assessed various facets, including curriculum, faculty qualifications, research opportunities, facilities, and student outcomes. Chandigarh University's Engineering and Computer Science programs have met all criteria, securing this prestigious accreditation.
Implications for CU Students & Prospective Engineers/Computer Scientists
For both current and aspiring students, the ABET accreditation of Chandigarh University's Engineering and Computer Science programs offers myriad advantages. Firstly, it assures students of receiving the highest quality education, equipping them with the necessary knowledge and skills to excel in their chosen fields. Furthermore, ABET accreditation bolsters the university's reputation, enhancing the value of degrees earned by its graduates. Importantly, this accreditation broadens the horizons for career opportunities, nationally and internationally, as it ensures recognition by employers and professional bodies. Ultimately, students can be confident that their investment in Chandigarh University will yield substantial returns in their academic and professional pursuits.
Conclusion
The ABET accreditation of Chandigarh University's Engineering and Computer Science programs stands as a monumental achievement, exemplifying the institution's unwavering commitment to educational excellence. This accreditation not only benefits the university and its students but also strengthens the reputation of the entire academic community. By offering globally recognized, industry-aligned programs, Chandigarh University continues to nurture skilled professionals poised to make meaningful contributions to the ever-evolving fields of Engineering and Computer Science.