Rajasthan Education Minister, Dr Buaki Das Kalla, has taken to Twitter to announce the postponement of the RBSE practical exam 2022 yesterday. The RBSE practical exams have been deferred until further orders as of now. This decision was taken after having a brief analysis of the covid situation in the city with the experts. Once this news broke, the students and parents started retweeting in support of the government's decision.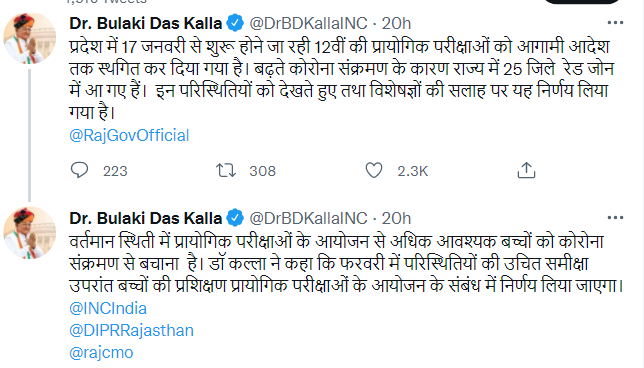 The tweet reads that amid the growing cases of COVID-19 in the state, the state government has decided to postpone the practical exams that were supposed to commence from January 17, 2022. The tweet further stated that this decision has been taken since at least 25 districts have become red zone in the state. The minister also stated that at this time, the state government is giving preference to students' health rather than practical exams. The final decision regarding conducting the exams again shall be notified later when the situation is conducive.
Earlier, after conducting a meeting with the authorities, the board has announced that it will conduct the board exams under strict COVID guidelines. However, now the situation has worsened to a high extent and shutting down schools and deferring the exams is the only option. As of now, no future date has been announced regarding the re-scheduling of the practical exams however it is speculated that an announcement shall be made soon.
RBSE is going to commence its final board exams from March 03, 2022, and this time at least 20 lakhs of students are going to appear for the examination. With only 6074 centres currently available, the state government is expected to increase the number of centres. This move is going to help them with ensuring social distancing facilities and SOPs listed for COVID management. The department has also decided to extend the facility of marks and hand sanitisers in the exam centre.