The country is currently, witnessing a nationwide strike of doctors and healthcare professionals owing to delay in NEET PG 2021 counselling and intense workload. Junior doctors from Maharashtra, Delhi and others states/UTs have joined the nationwide protest. Recently, the Junior Doctors Network, a branch of the Indian Medical Association (IMA) wrote a letter addressing the Ministry of Health and Family Welfare. This letter has demanded the fast-tracking of court proceedings and withdrawal from all healthcare services.
The nationwide strike is not just 1-2 days old but has been ongoing for almost three weeks, with doctors protesting against the overwhelming workload. A delay in NEET PG 2021 counselling is the main culprit, contributing to this workload. The letter written by the Junior Doctors Network summarises the circumstances of junior doctors and their circumstances.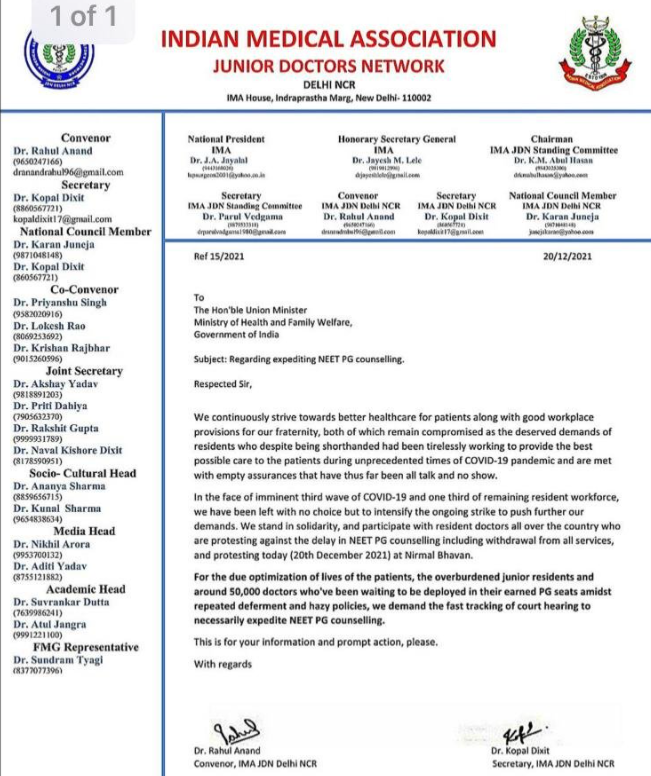 Why the ruckus?
Due to the COVID-19 pandemic, the NEET PG 2021 examination was postponed and conducted on September 11, 2021, across the country. In the months prior to the exam, MBBS-pass-outs and residents were at the forefront of the healthcare system to tackle the first and second waves of the COVID-19 pandemic. However, almost three months have passed and there is still no sign of NEET PG 2021 counselling commencing any time soon.
Usually, three batches of junior residents support the senior staff and manage the bulk of the workload in hospitals. However, due to a delay in NEET PG 2021 counselling, there are only two batches. This is creating a void in the healthcare system which doctors have been trying to cover for months together.
In January 2022, the senior resident doctors will be preparing for their exams. So, the onus of managing the hospital workload will be transferred to the junior residents. With hospitals already facing a shortage of staff and the impending third-wave due to the Omicron variant, the future does look bleak for doctors already managing a massive workload.
Against this background, junior doctors across the country have planned on intensifying their strike and withdrawing their duties till their demands are met. Their singular demand is to fast-hearing the court proceedings to further, expedite the NEET PG 2021 counselling. By doing so, around 50,000 doctors will be deployed in their PG seats. This will provide some respite to the two current batches of junior residents, functioning at the forefront in various hospitals.
While a nationwide, intense strike is being organised by doctors across the nation, the health ministry is yet to respond to their demands. As of now, the National Board of Examinations (NBE) is yet to respond or provide any clarity on the NEET PG 2021 counselling schedule.