Jammu & Kashmir Public Service Commission (JKPSC) has extended the registration deadline for the JKPSC Combined Services Competitive Examination (KAS) Mains 2021. Candidates who have been shortlisted for the second stage have time up to December 24, 2021, to register for the Mains segment. However, the remaining schedule of events shall remain the same. A dedicated public notice announcing the deadline extension has been published on the official website jkpsc.nic.in.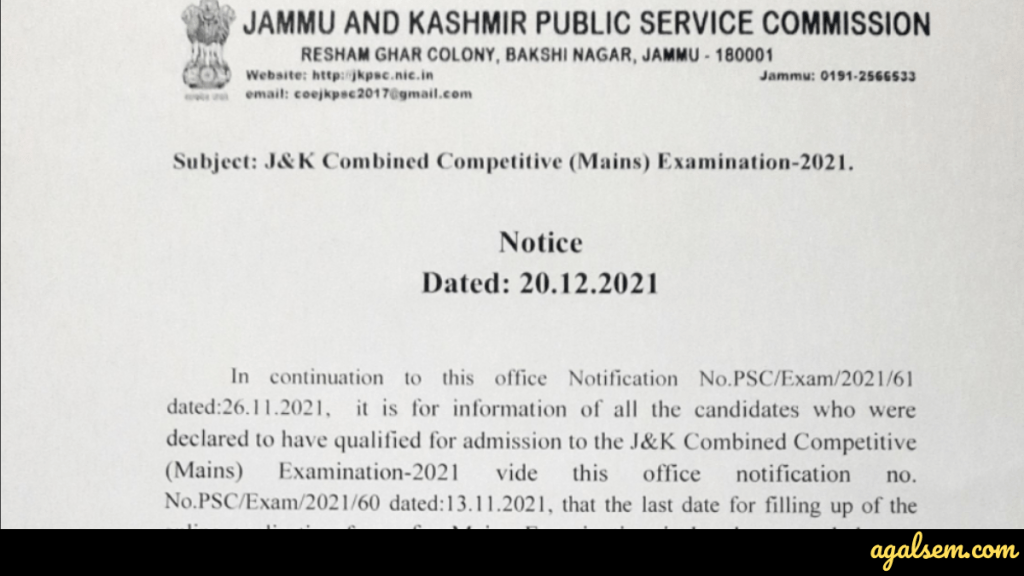 Earlier, the commission had conducted the JKPSC KAS Mains 2021 registration process from November 30 to December 20, 2021. Shortlisted candidates had to fill and submit the form on jkpsc.nic.in, within this time frame. Thereafter, a correction facility was to begin today, December 21, 2021. Those who already submitted their applications could edit the details present in the form, latest by December 23, 2021.
Just one day prior to the commencement of the correction facility, JKPSC decided on extending the registration deadline for KAS Mains 2021. This gives candidates an additional 4-days' time to fill and submit their forms. While it is not directly implied, the correction facility shall remain open from December 25 to 27, 2021.
Those who have already applied for the JPSC KAS Mains 2021 exam can make use of this facility to rectify any mistakes committed in the exam form. But candidates who are yet to complete their application, have ample time to fill it carefully, without committing any mistakes.
How to Apply
To apply for the JKPSC KAS 2021 Mains examination, candidates can follow the steps given below –
Step 1: Visit the official website of the JKPSC KAS 2021 Mains exam i.e., jkpsc.nic.in.
Step 2: On the homepage of the website, click on the "Recruitment" tab followed by the "Jobs/Online Applications" option present in the dropdown menu.
Step 3: By doing so, a new page will open containing a list of exams conducted by the JKPSC. Hover the mouse pointer on the "Combined Competitive (Mains)" section and click on the "Apply" button.
Step 4: A new page will open containing the advertisement for the main exam and the 'Apply' button to access the application form.
Step 5: To apply, log in to the official website by typing in the username, password, and verification code. New applicants are required to sign up first and fill in the particulars in the next step.
Step 6: Click on the 'Apply' button to access the form and fill in the required details.
Step 7: Upload the necessary documents such as signature and passport-size picture.
Step 8: Pay the prescribed fee to successfully apply for the JKPSC KAS Mains 2021 exam.
The entire JKPSC KAS 2021 Mains registration process is being conducted through the online mode. Hence, no candidate is expected to personally visit the commission and submit a hard copy of their applications.