Office of Dean of Academic Affairs, University of Jammu issued a public notice on June 03, 2021, regarding the Jammu University Entrance Test (JUET) 2021. The notice was also published on the official website jammuuniversity.ac.in. Accordingly, the JUET 2021 examination shall not be conducted this year in view of the COVID19 situation prevailing in the country. Instead, admission to various undergraduate, postgraduate programmes or courses shall be based on merit. Applicants shall be granted admission to affiliated colleges based on their performance in their qualifying examination.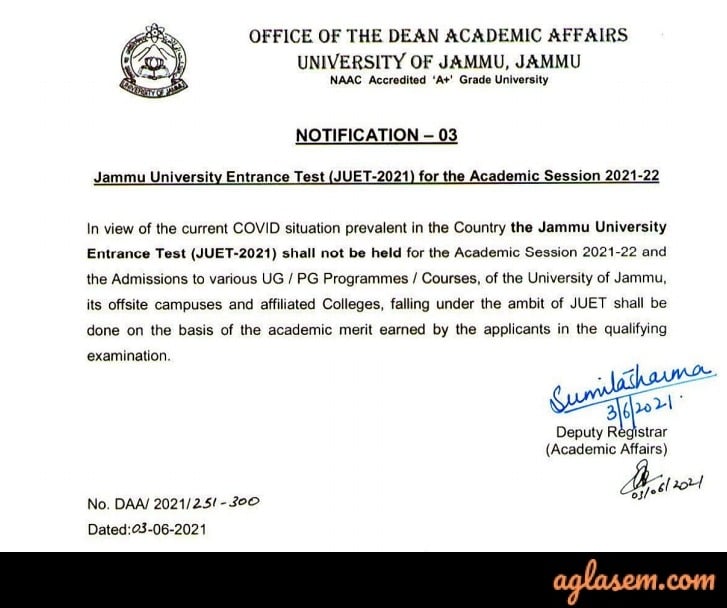 The second wave of COVID19 created havoc in the country and uncertainty among the students. Like last year, board exams and entrance exams are either being cancelled or postponed due to the rising number of coronavirus cases in the country. While the country has started recovering from the virus, it is far too risky to conduct full-fledged entrance exams as per the previous pattern. Moreover, it would be impractical to introduce any last-minute changes in the exam pattern.
Keeping the current circumstances in mind, the Jammu University authorities decided to cancel the JUET 2021 examination. Unlike last year, the admission process for the upcoming academic year 2021-22 shall be done based on the performance of candidates in their qualifying examination. This clause shall be applicable for all offsite campuses and affiliated colleges under the ambit of the university.
Every year, Jammu University conducts the JUET written objective test for PG and UG admission process. The objective-based entrance test covers a range of subjects such as General English, General Knowledge, Reasoning and Numerical Ability. Based on the combined performance of a candidate in his/her academics and in the JUET examination, the admission committee of the department shall accept applications of qualified students. However, this year only one criterion shall be used for assessing students as JUET 2021 has been scrapped.
A similar decision was taken in April 2021 by the Directorate of Distance Education, Jammu in the case of Jammu University B.Ed. Admission 2021. The entrance exam for B.Ed admission was cancelled due to the same reasons. Instead, admission was to be offered through the counselling process. The academic performance and fulfilment of eligibility criteria were taken as factors for the admission process. Candidates had to be present for the counselling session along with the required documents. Failure to do so would lead to the cancellation of their candidature for admission. A similar process is expected to follow in the case of UG and PG admission 2021 for other courses.
As of now, the dates for release of merit lists are yet to be announced. Hence, candidates interested in seeking admission at colleges or institutes affiliated with Jammu University are advised to visit the official website jammuuniversity.ac.in frequently. This is to ensure that no query or issue goes unresolved with regard to the admission process.